The picture above shows my Apple HomePod that arrived yesterday. It is intended to replace the Harman Kardon SoundSticks shown below. The HomePod has no wired connections (except for power). It's designed to respond to voice commands (via Siri). One can also stream to it from any Airplay-capable device.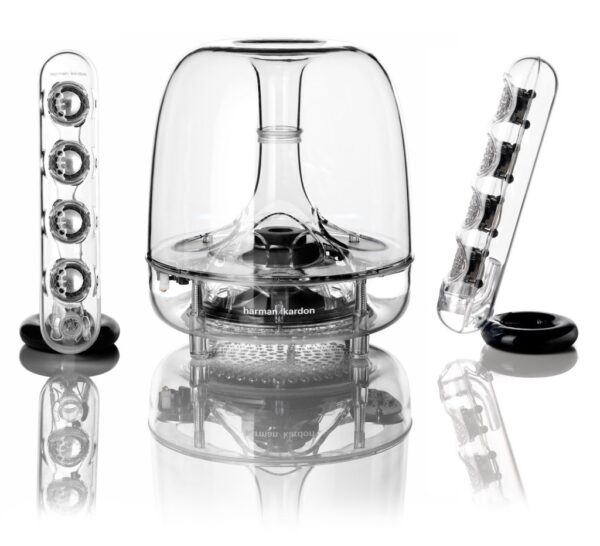 The HomePod has very nice sound. Certainly it is a technological marvel for it's small size. For years we've seen a number of small bluetooth speakers on the market that have significantly better sound output than their small size would suggest they should. I have a couple from Sony that I like pretty well. I also had an expensive one from Harman Kardon before I returned it and got my SoundSticks.
For years I have used a number of 2.1 systems like the Harman Kardon SoundSticks shown above connected to various things (usually a PC or a TV). A 2.1 system is a basically an amplified speaker system with two primary speakers and one sub-woofer. I've been pretty impressed with a number of these, and I think it's a great budget solution for many folks.
I think that one cannot expect to match the sound volume or crankability of a decent 2.1 system with a single speaker like the HomePod. However the HomePod does have several things going for it. First, the sound quality is exceptional. Second, it's entirely omnidirectional. There is no front or back and therefore no real "sweet spot" that one needs to be in. It literally tunes itself to your room and it's placement in it. Third, it has an always-listening personal assistant (Siri). This is particularly nice since most of our lighting is HomeKit compatible. Controlling the lights with voice commands is kinda cool.
So while the HomePod doesn't crank as loud as my other speakers… it looks cool, and it sounds cool. Plus I'm an Apple fan. So there is that. Being an Apple fan means I have a predisposition to liking/preferring Apple products. I make no apologies for that. And in the case of the HomePod, my decision whether or not to keep it might be more difficult if it were not a fancy new Apple product. That does kind of tilt the scales for me. I won't lie, being an Apple fan is fun. And yes, I am keeping it.
I'm going to add this link to a really great reddit article/review on their audiophile subreddit. Seems that this guy thinks Apple totally nailed it. And he has the evidence to prove it.
I will also add a link to a great YouTube piece on the HomePod. This one is entertaining.